Transform your marketing strategy with Sitecore XM Cloud
In today's rapidly evolving digital landscape, where seamless and engaging experiences are the new norm, a transformative marketing strategy is essential. Picture the convenience of ordering a meal through an app or receiving real-time flight updates on your smartphone – these personalized interactions have become the cornerstone of modern consumer expectations. In this blog, we'll delve into how Sitecore XM Cloud can be the game-changer your marketing strategy needs.
Easily enrich the digital experience with XM Cloud
Sitecore XM Cloud is much more than a simple content management system. It functions as a comprehensive digital experience platform that seamlessly integrates content management, personalized customer experiences and in-depth data analytics.
This platform enables marketing teams to quickly and efficiently create and deploy engaging and memorable digital experiences. Thanks to its intuitive user interface, content managers can effortlessly compose and publish current and engaging content. In addition, the platform provides marketers with powerful out-of-the-box tools to create personalized and targeted experiences that perfectly match each visitor's unique needs.
Built-in analytics tools provide teams with deep and clear insight into user interactions. These insights enable them to continually adjust and perfect their marketing strategies based on current and accurate data.
By providing personalized content, recommendations and offers, organizations can not only make a positive and lasting impression on their customers, but also significantly increase conversion rates and improve overall customer satisfaction.
1. What's new in Sitecore XM Cloud?
1.1 Deploy app
If you're using Sitecore XP and considering moving to Sitecore XM Cloud, you know that the deployment process can be a lot of work. That's why you'll love the new Deploy app in Sitecore XM Cloud. With one click, you can deploy a new website or campaign landing page to a live environment in no time. This saves you a tremendous amount of time and effort, allowing you to focus on more important things, such as creating great content and marketing campaigns.
1.2 Cloud Portal
In a world where digital experiences are central, the Cloud Portal emerges as a guiding light. This centralized portal simplifies the orchestration of various Sitecore DXP products, making the management of digital journeys efficient and fluid. Picture a space where managing these experiences is seamless, allowing you to focus on innovation and connection rather than navigating technical complexities.
Centralized user management
The cloud portal makes it possible to manage the specific access rights of developers, marketers and content managers across products – alowing them to work harmoniously. This makes coordinating projects and managing resources much easier and more efficient.

1.3 Pages
Stepping into the realm of content creation, we encounter the revolutionary 'Pages' interface. This tool, purposefully designed to grant marketers a competitive edge, outpaces the Experience Editor in both speed and intuitiveness. With a focus on efficiency, Pages empowers marketers to manage and create content more rapidly, effectively reducing time-to-market. Through its user-friendly drag-and-drop interface and a rich array of pre-designed components, Pages offers a canvas where marketers can effortlessly weave images, videos, and text. This isn't just a tool – it's a conduit for crafting pages that merge aesthetics with information, equipping brands to respond nimbly to the dynamic digital landscape.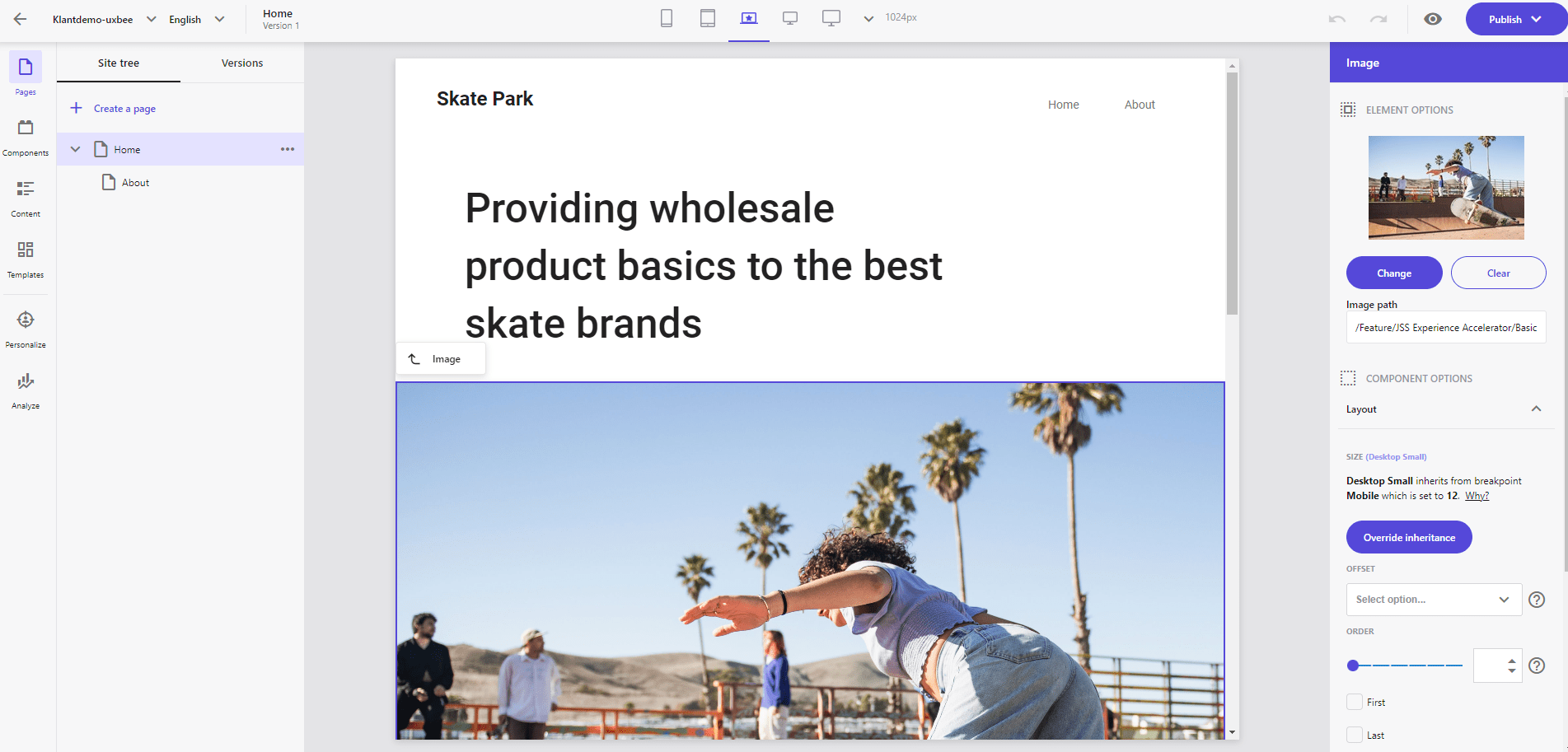 Want to see Pages in action? Then check out this short demo I made.
But wait, there's more. Let's explore the dynamic capabilities of the Pages interface…
1.4 Components app
Venturing further, we find the Components app – a powerhouse tool that opens new avenues of creative freedom for marketers. Here, the distinction between the marketer and developer blurs as marketers gain unprecedented independence in designing and managing components. No longer dependent on developers, marketers can curate landing pages according to their vision. This shift not only slashes time and costs but also channels creative control into their hands. With the Components app, marketers wield the reins of visual and functional aspects, all while remaining aligned with the overarching brand identity.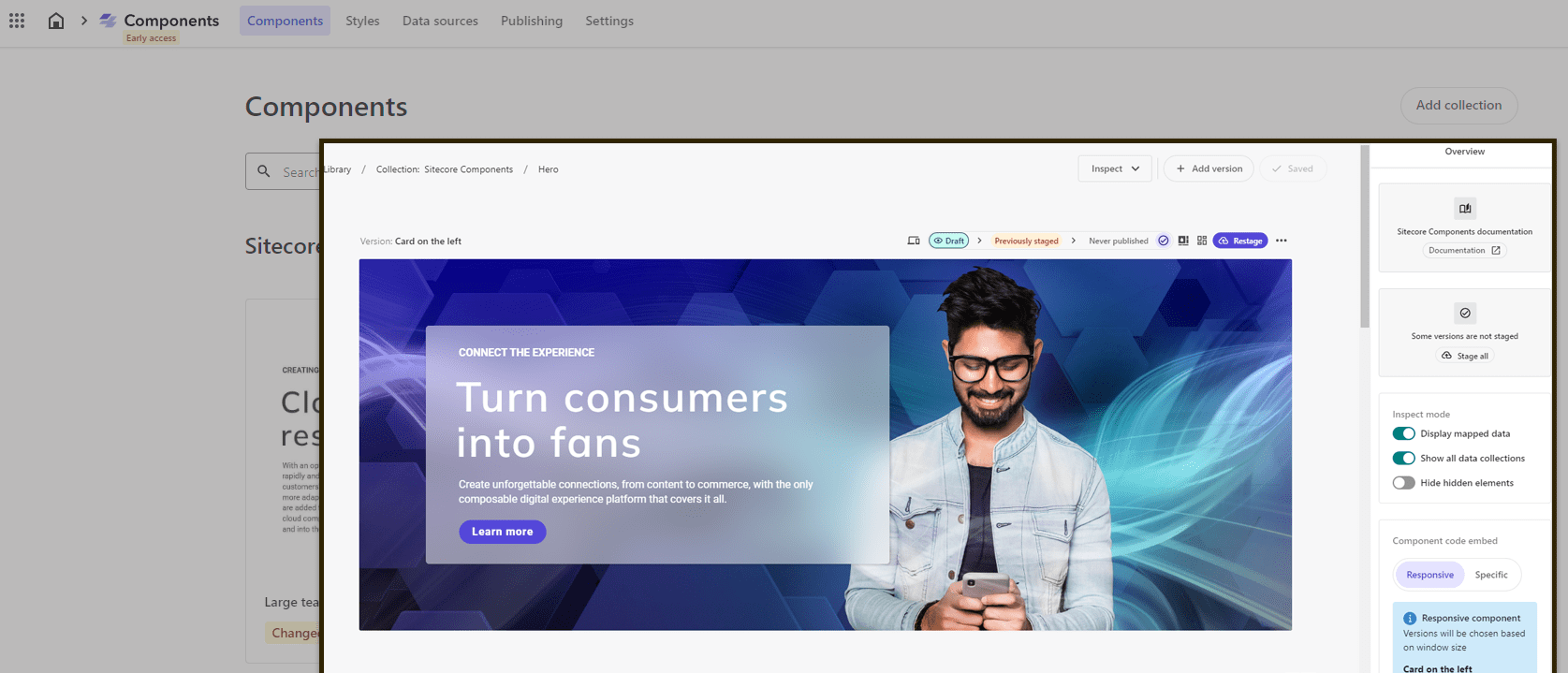 1.5 Personalization
In a world where generic content falls short, personalization takes center stage. Sitecore XM Cloud's updated personalization capabilities enable organizations to offer visitors more relevant and engaging content.
Thanks to Sitecore XM Cloud, customized experiences can be offered that are tailored to various factors such as the visitor's demographics, interests and browsing habits. This helps increase conversion rates and improve customer satisfaction.
Sitecore has carefully researched how marketers use the personalization features in Sitecore XP and has optimized this functionality in XM Cloud. This has focused specifically on the most frequently used scenarios by customers, eliminating unnecessary, rarely used features and making the system more efficient and user-friendly.

In my video about 'Sitecore Pages', I also briefly discuss personalizing content. Interested? Take a look here.
1.6 Analytics
Understanding user behavior is the compass for effective marketing. Sitecore XM Cloud's integrated analytics tools reveal insights into user interactions, unveiling the path to optimization. But what sets this apart is the seamless integration of analytics within the Pages interface. As you edit content, analytics provide real-time, contextual insights into each page's performance, simplifying the optimization process without navigating a separate analytics tool.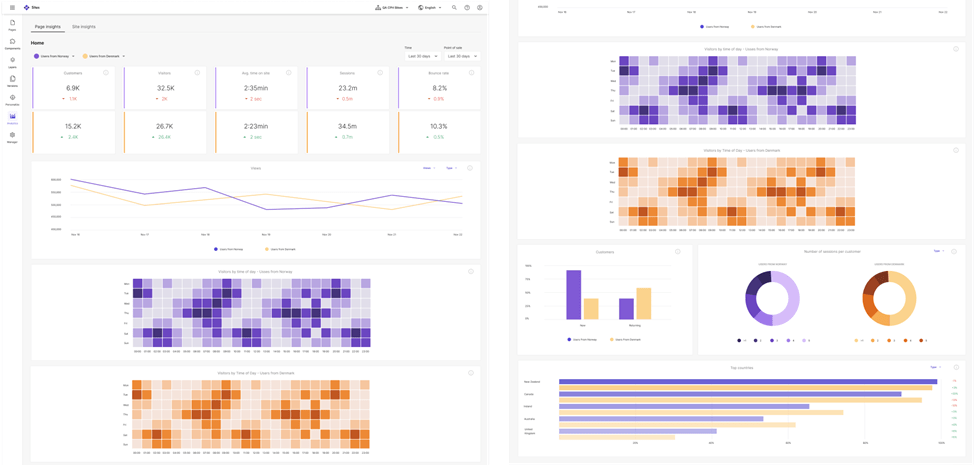 2. The pillars on which XM Cloud is built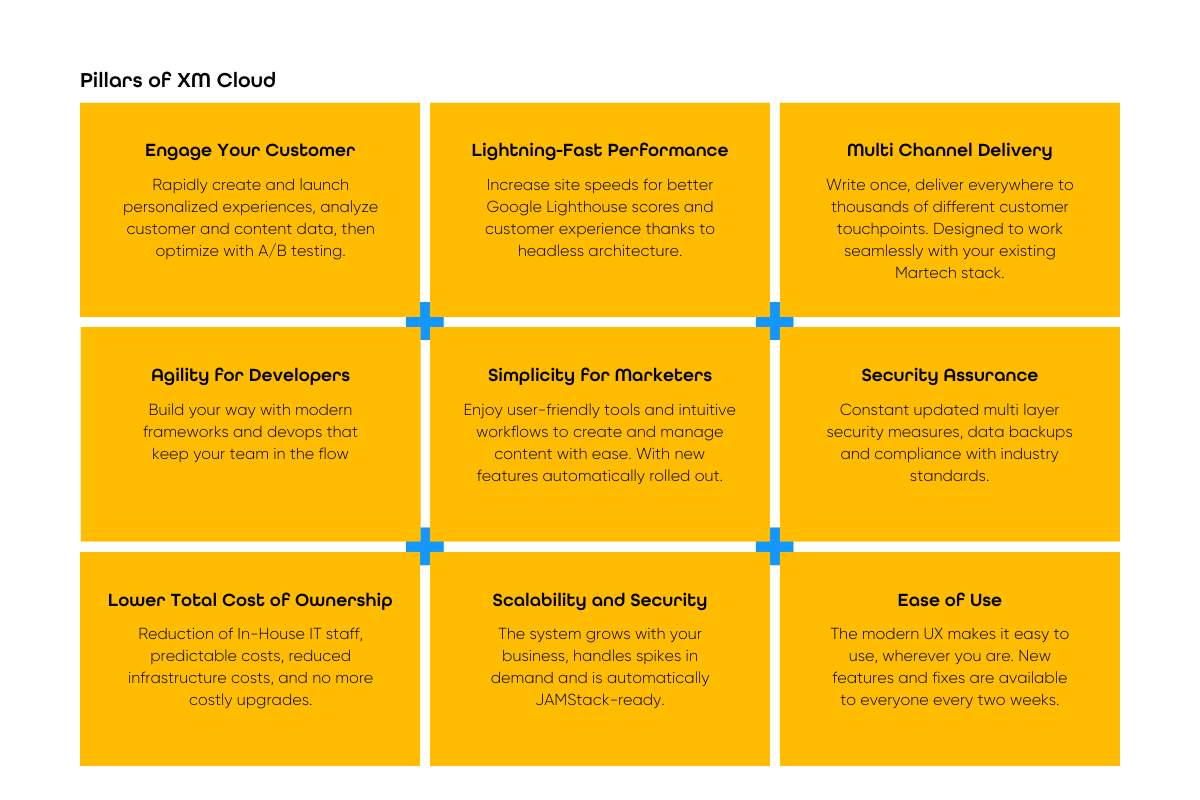 3. Are you already using Sitecore?
For teams that are used to using Sitecore's traditional integrated suite and want to move to a composable architecture, XM Cloud offers a viable route. Existing Sitecore Experience Platform customers who are not using the full suite of tools find in XM Cloud an opportunity to take advantage of the benefits of a SaaS tool and choose the services they actually want to use.
Beyond innovation, the move from Sitecore XP to XM Cloud is often financially appealing, with potential annual savings up to 100K.
Nonetheless, the initial migration costs may discourage you. At uxbee, we've developed a strategy that not only reduces the initial cost, but also spreads it out.
With this, we ensure that you don't go directly over your budget in the first year and can continue to dedicate resources to lead generation and optimizing the customer experience.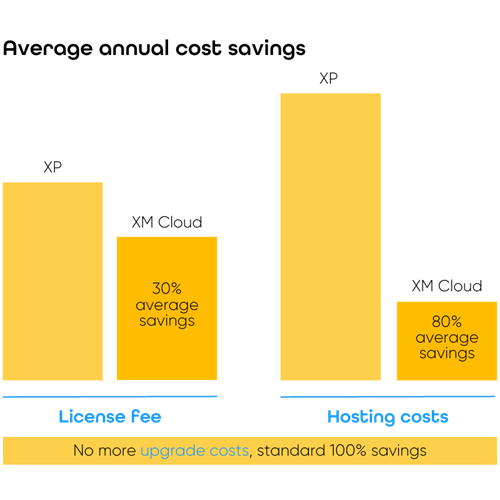 Contact us or download our whitepaper and find out how to harness the power of Sitecore XM Cloud without breaking your budget.
4. Why choose uxbee as your Sitecore Partner and Specialist?
When it comes to bringing your new platform to life, the choice of a partner matters. At uxbee, we're not just experts – we understand your needs. As Sitecore Partners and Specialists, we're here to create a Sitecore solution that's perfect for your organization. We don't just offer technical know-how – we're committed to making sure you succeed.
Let uxbee guide you into the world of Sitecore XM Cloud's incredible potential. Reach out to us today and take the first step towards transforming your customer experience.